A glorious weekend at the best
Ski resort in Southern California
By Marlise Kast-Myers
It was in 2008 when I met the man who would be my match. My list of relationship requirements stretched from traveler and linguist to musician and artist. Near the top there was a passion for snowboarding and surfing, two sports that I considered a lifetime.
After ticking all the boxes on my wishlist, my man closed the deal in 2011 with a wedding and honeymoon that took us surfing in Mexico and snowboarding in Mammoth.
Today, 10 years later, we dreamed of going back to where it all began. The only caveat was that our lives had embraced something called "accountability". With full-time jobs, a property to renovate, and an antique store turned into a hobby, we had little room for active getaways.
When my husband suggested that we celebrate our anniversary at Big Bear, it seemed very doable. And it was. Departing after work on Thursday, we were able to get from our home in San Diego to our hotel in Big Bear in just over two hours.
Framing the shores of Big Bear Lake, this tiny town of SoCal first drew us over a decade ago with its rugged trails in the San Bernardino National Forest. We weren't the only ones.
In 1845, a group of renegades stole a herd of cattle, to be pursued by Benjamin Wilson, justice of the peace. In his quest for thieves, he discovered a forest populated by grizzly bears, soon labeled "Big Bear Valley".
Fifteen years later, prospector Bill Holcomb found gold in the nearby Holcomb Valley. Word spread and the population grew, eventually leading to the infrastructure of roads, dams and mountain communities. But the real "gold" came in 1938 with the opening of the first ski lift in the area.
At the time, the town itself – originally called "Pine Knot" – was nothing more than a lodge and a small group of camps. That year the name was officially changed to Big Bear Lake, and these camps marked the first center of the community.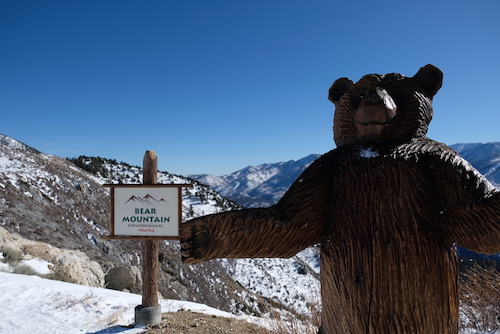 Big Bear has continued to grow over the years, now attracting over six million annual visitors who rub shoulders with ski poles with 5,000 permanent residents. We too are one of those six million, naming Big Bear as our native mountain. Proximity makes this a no-brainer, and the fact that they have two ski resorts under one lift ticket allows us to repeat winter. Each season, we visit Snow Summit and Bear Mountain on the same day, admiring each resort for its distinct personality.
The Family-Friendly Snow Summit is like the tame sister – structured, tidy and predictable. With plenty of beginner to intermediate trails, it teases with a few backcountry challenges worth exploring on powder days.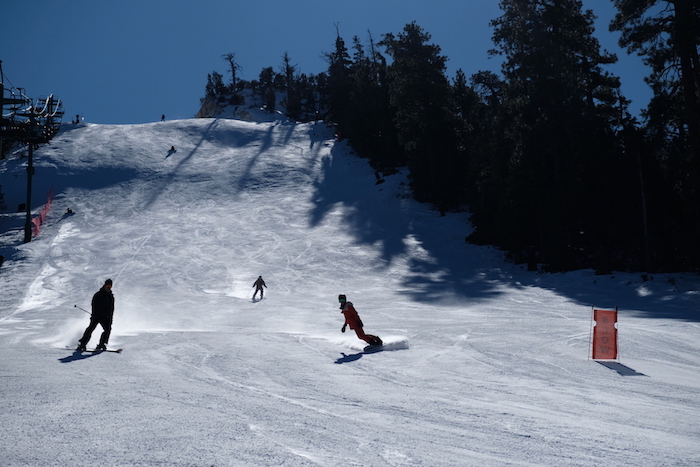 Bear Mountain Ski Resort is like the rebellious brother with a plethora of snow parks, halfpipes, and steep groomers to boot. Its followers, immersed in their own selfie-stick world – decked out in baggie pants and layered hoodies – capture almost every GoPro jump and jib as if they were stars in their own movies.
Granted, we love them both equally.
However, these sister mountains did not always get along. In 2002, the old competitors – just two miles apart – came together under one umbrella to form Big Bear Mountain Resorts. In 2014, they were adopted by new parents, this time by Mammoth Mountain for $ 38 million. Three years later, Mammoth sold to Alterra Mountain Company, making the three California ski resorts part of a conglomerate of more than 15 resorts across the United States.
Although Bear and Summit are not physically connected, a free shuttle takes the masses between the two stations every half hour. The rewards for reaching both peaks include 438 acres, 26 ski lifts, 55 runs, 8,805 vertical feet, and an average snowfall of 100 inches.
The 2021 season was filtering at 120 inches, so we knew it was time to visit Big Bear. Our only problem was that we didn't have a friend with a cabin. If you love the mountains, always have a friend with a cabin.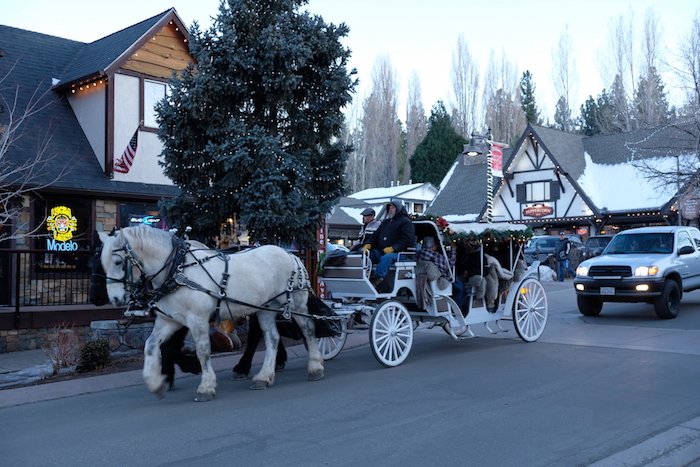 Big Bear has over 300 available for rent, and in winter, the majority flirt with proximity at a price. During the holidays, expect to pay five times the standard rate, plus a three-night minimum as part of the pledge. Hotels are not far behind, except in the middle of the week at the end of the season when prices drop by almost half.
From April to November, Big Bear becomes financially fair. Tack on a fourth day, and it's not too painful on the budget.
Although the majority of visitors come to ski, there are still plenty of activities to keep families entertained, including tubing, bobsledding, bowling, helicopter tours, and a zoo that rehabilitates local alpine species.
When winter gives way to spring, this four-season getaway doesn't disappoint. Close to Phoenix, Vegas, and Los Angeles, it makes for easy summer getaways where fishing, boating, golfing, ziplining, and biking are all on the mountain menu.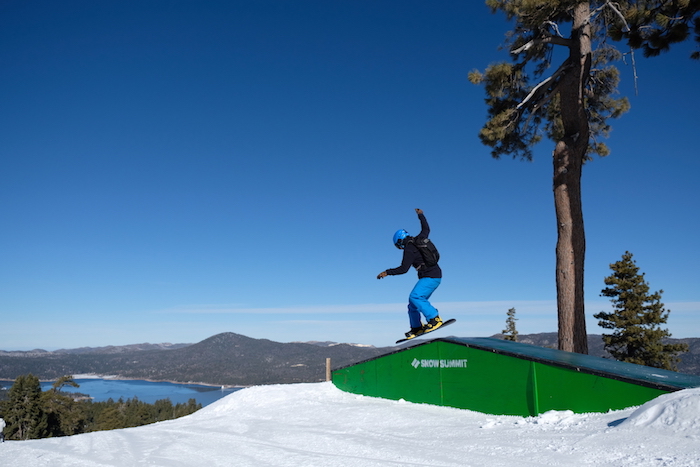 Considered the jewel of the San Bernardino National Forest, it invites hikers to take the famous Pacific Crest Trail that crosses the Big Bear Valley. In the past my husband and I have rented snowshoes, ranging from Discovery Center to PCT which merges with Cougar Crest Trail.
But during this anniversary trip, we embarked on the brain. With one foot in winter and one foot in spring, we stuck it out in March midweek and paid $ 150 a night at Holiday Inn Resort The Lodge. The free shuttle to the slopes and the proximity of the Village seduced us. Within walking distance of our hotel were 120 shops, restaurants and bars that made up Big Bear Lake Village, the commercial area.
We purchased lift tickets at the new and improved Big Bear Visitor Center with touch screen kiosks and live wildlife cameras. It's the go-to spot for local weather, road conditions, upcoming events, cottage rentals and everything in between.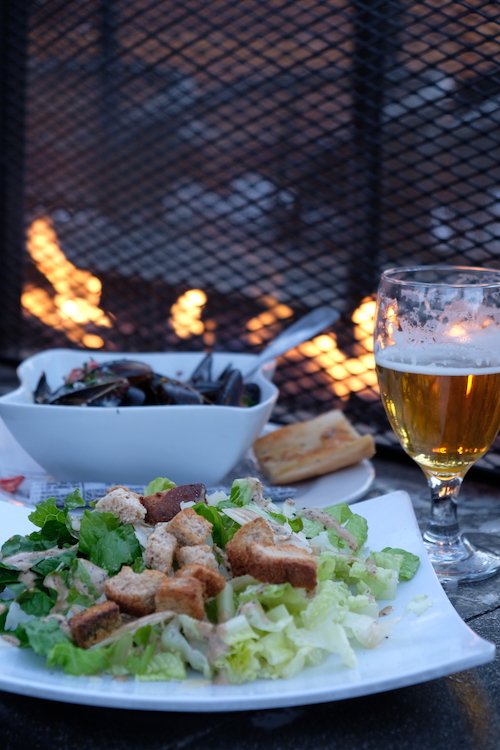 After settling into our hotel, we walked to the Village for dinner at the Bone Yard Bar & Grill. Grilled burgers, rib eye steak and ribs have fed the après ski masses. With options like 'redneck tacos' and collard greens, it makes sense for country music, TV sports, and 44 beers on tap to set the mood. Although far from romantic, this is where we went to fuel our day on the slopes.
Late in bed, early to wake up, Snow Summit had us carving corduroys at the first bell at 9am. We went to the far left, clamoring for intermediate and advanced trails before day skiers arrived from LA and beyond. Making up about 70 percent of trails, experienced runners have plenty of cherries to pick, best explored after the storm or early in grooming.
In Big Bear, the bluebird days after a 'dump' are epic, and when they do, it's definitely worth skipping the job. You'll meander between chairs 11 and 7. Beginners and park rats can claim Summit Run, as well as the freestyle snow parks dotted around the trails.
We tapped everything, hitting almost every race by late afternoon. There were no elevator lines or strangers to speak of; it was just the two of us, reveling in being 40 and free on a Friday.
Conversations on the elevators spanned the specter of sore muscles, random streaks, real estate and back for Oktoberfest. During the fall, Big Bear takes the German tradition to 7,000 feet with live music, a vendor village, an entertainment area, and lots of kids and beer to make it official. This 50 year tradition of Big Bear was as strong as ever and we wanted to be a part of it.
In the meantime, we were playing our age at Sweet Basel, the closest thing to fine dining that Big Bear had to offer. White linens, candlelit tables and soft music set the stage for our romantic evening. It was intimate in a tourist town, with only 13 tables where lobster and filet mignon stuffed with gorgonzola were served. We indulged in the homemade donuts and tiramisu, knowing both would be burnt at Bear Mountain the next day.
And they were. But this time, we were not alone. We were joined by the young abusers in LA, living their personal clips, feeling invincible in a plume of smoke and vapor. Unlike the family Snow Summit, "Bear" felt different, smelling of barbecue, Red Bull, marijuana, mountain air, and a whiff of naughty teenage.
The skiers were clearly outnumbered. From the parking lot came hordes of snowboarders, coming out of tailgate parties, accessorized with everything from bunny ears and Mohawk helmets to Captain America capes and football shirts. We felt rather dull in our normalcy. But alas, we were there to ride and we were literally approaching the "hill" (luckily, not on it yet).
Like the bulletproof crowd, I also tackled inclines, jibs and jumps that I probably shouldn't have. From the double black Geronimo peak at 8805 to the box rails in the snow park, I too, for a moment, wanted a helmet camera.
Blame it on this maverick mountain that gives life to someone and does dirty tricks that fight the body. My heart said "yes", but my legs paid the price, reminding me at sunset that I was some 40 years old. Of course, my husband played the wisdom card and chilled out on the lodge side with a chill. At least one of us was acting at his age.
By 4 p.m. we were back in the car and by dinner time we were hanging out along the coast. This is what makes Big Bear so magical. From the mountains to the beach, there are few places where you can technically snowboard and surf in the same day. With my head against the window, I thought for a moment if I should try it, maybe add it to my bucket list and try it someday.
We pulled into the driveway and my husband turned off the ignition. Turning to him, I exhaled deeply and smiled.
– Happy birthday, I say.
And that was it – that moment when you realize that a weekend at Southern California's best ski resort is just enough.
About the Author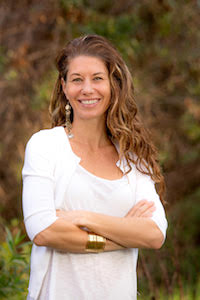 As a journalist and author, Marlise Kast-Myers has contributed to over 50 online and print publications, including Forbes, Surfer, SD METRO Magazine, San Diego Magazine, and Union Tribune. Her passion for travel has taken her to 85 countries and has led her to establish a short-term residence in Switzerland, the Dominican Republic, Spain and Costa Rica. As a travel journalist, Marlise has co-authored over 20 Fodor Guides, including books on Mexico, San Diego, Panama, Puerto Rico, Peru, Corsica, Sardinia, Vietnam, Los Cabos and the Costa Rica.